Vinyl Siding Styles
Beautiful, durable, energy-efficient siding for your Louisiana home.
Energy Efficient Vinyl Siding From Prodigy®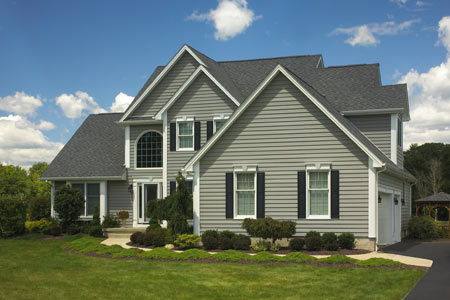 If you're looking to save on energy bills and feel comfortable in your home's temperature year-round, allow us to introduce you to Prodigy Vinyl Siding, which is known for its premium 1-1/2″ thick insulation which delivers unparalleled resistance to heat flow. Its finely milled cedar grain panel increases your home's curb appeal with its 16′ 8″ extended length design, which gives your home a modern flair.
Prodigy's high-performance insulation is form-fit to adhere to the outer panel for enduring strength, with no tearing or rattling, even in extreme winds. Its extensive color palette and on-trend decorative trim and accessories make Prodigy a top choice for those looking to add panache to their home's exterior.
Vinyl Siding Features:
1½" thick insulation, wraps your home in a thermal blanket of protection to help lower utility costs while providing a warm and cozy environment
A secure interlocking panel design, which provides a tight fit and clean, crisp course lines
A vinyl surface, which repels heavy rain while its insulating layer breathes freely to keep your home comfortable
16'8″ extended panel length provides the look of natural wood and does not require face nailing or unsightly caulking
Lifetime Transferable Warranty*
*See printed warranty for complete details
---
Eco-Friendly Vinyl Siding From Prodigy®
Go green. Choose Vinyl.
For those looking to lower their Carbon footprint while increasing the value of their home, vinyl siding is a top choice. Vinyl is recognized by the USGBC, LEED for Homes program as an environmentally preferable product because:
Insulated siding improves the energy efficiency of wall systems.
Vinyl is lightweight, so less energy is consumed during transportation compared to other, heavier materials.
Vinyl siding provides outstanding economic performance when evaluating costs associated with life-cycle stages, from raw material to waste management.
Information from the National Association of Home Builders (NAHB) indicates vinyl siding should last a lifetime, therefore it will not need to be replaced, reducing the need for new materials.
---
Value-Increasing Vinyl Siding From Charter Oak® Energy Elite Vinyl Siding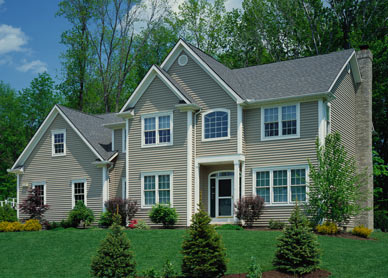 For maximum energy efficiency, a quieter living space and optimal in-home temperatures, choose Charter Oak Energy Elite insulated vinyl siding.
Charter Oak Energy Elite's contoured foam underlayment performs in extreme weather conditions, blocks outside noise and keeps your home's temperature right where you want it.
Charter Oak Energy Elite's features:
500% more breathable than other insulated systems, for a healthier home
Fully supported to resist denting, bowing and bending
Discourages termites from nesting behind the siding
Features a precisely contoured insulating foam underlayment that reduces energy costs while keeping your home comfortable
Five times the impact resistance of traditional siding
Exclusive TriBeam Design provides superior strength and durability
Rolled-edge nail hem ensures superior performance in any climate and weather conditions
Lifetime Transferable Warranty*
---
Charter Oak® Vinyl Siding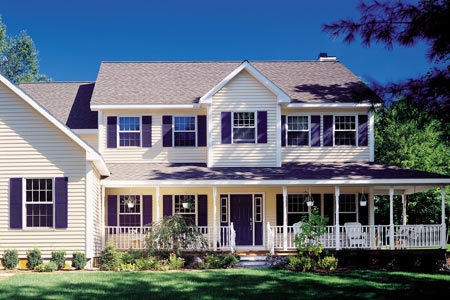 For long lasting durability that will increase the value of your home, look no further than Charter Oak®. You will love how it combines authentic wood beauty with durability, performance and zero maintenance. Alside's exclusive TriBeam Design gives Charter Oak, Charter Oak XL and Charter Oak XXL superior rigidity, while a double-thick nail hem enables it to withstand Category 5 hurricane-force winds.
What color are you looking for? The Charter Oak color palette makes it so easy to choose the style that's right for your home. Plus, this collection offers you the largest variety of trim, soffit and accent options available to further customize.
Features include:
Choice of natural oak grain or matte finish
Dutch lap and clapboard profiles
Exclusive TriBeam Design provides superior strength and durability
The siding that changed the industry is five times more rigid than other leading brands
Charter Oak siding has been independently tested to resist Category 5 hurricane force winds
Charter Oak XL and XXL extended length panels can be used on their own or in combination with standard 12'1″ panels
Lifetime Transferable Warranty*
*See printed warranty for complete details
---
Other Vinyl Siding Styles
Charter Oak XXL
Charter Oak XL
Board and batten
Williamsport Colonial
Beaded
Cypress Creek Variegated
Center Lock Energy Choice
Center Lock
Odyssey Plus
Coventry By Alside
Seneca
Landscape
Conquest